Where: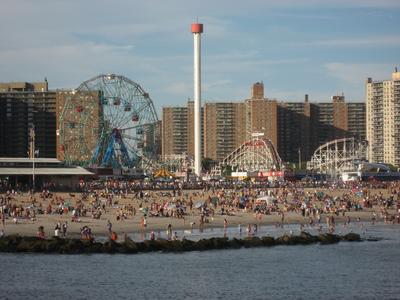 That's right, Coney Island
Superman and Thor met right on the boardwalk at Coney Island where they would learn the rules of the battle that they would partake in. Of course, there is only one competition worth having at Coney Island and that is a hot dog eating contest. That's right, I decided it would be totally awesome to see who could eat more dogs and how many these guys could guzzle down. And after this we'll know.
18,000 hot dogs were brought in and both men took their seats. They would be given 20 minutes to see who could eat the most. I figured 18,000 was enough because both guys work out and they must have big appetites. Also Superman has super speed and so I bet he could knock 'em back fast. Thor, on the other hand, is from Norway and everyone knows how he loves his wieners.
The clock began and both contestants were off. Superman ate them one at a time but he was able to eat 5 per second. Meanwhile, Thor ate at normal human speed (well, speed eating speed) but could fit 20 in his mouth at a time. By my estimates, they were neck and neck all the way through this thing. Of course, no one would know the winner until after the time limit because the judges would have to watch Superman in super slow motion to count how many he would eat.
The timer ran out and the contestants stopped eating. There were maybe 50 hot dogs left at the end (out of 18,000!). The judges then began counting how many each contestant ate, while we waited. They estimated about an hour before the final results would be in. I decided to ride the Cyclone a bunch of times to kill some time.
When the time came, everyone gathered to discuss the results. Just as the judges were reading the final tally Chuck Norris showed up. Everyone was in utter shock. What the heck was he doing there? It turned out that the judges had invited him back after noticing some information on the replay. The replay was then shown to the audience.
With about 10 seconds left on the timer, Chuck Norris showed up. He punched Thor while simultaneously round house kicking Superman. He hit them so hard they both regurgitated their tallies. He then, in one bite, ate the remaining hot dogs. It turned out that the original contestants had only eaten about 1500 hot dogs combined up until this point. So Chuck Norris swalled whole about 16000 hot dogs.
The judges then declared that Chuck Norris was the winner. They validated this by stating, "Chuck Norris' withdrawal in the second round was invalid since Chuck Norris never quits. That makes his entry into this contest completely within the bi-laws, and as such we declare Chuck Norris the winner."
Holy smokes, somehow Chuck Norris pulled a come from behind victory and defeated two gods at once in the process. This tournament just got really interesting and will make the finals that much more engaging. Let's get over to the other match and find out what happened.